(Our Tech Blog)
Good morning, loyal readers of this technology blog. Still like yesterday my eyes in pain. Hehehe: P. But that did not deter me to make postings. Now, I will discuss is the revolution of the iPhone. Who does not know the hell the iPhone? Yes, Apple's smartphone this invention is the following after the world's best-selling smartphone. Why not? The new fourth generation Apple alone has led to the largest mobile phone manufacturer in the world's largest number four. Under Nokia, Samsung, and LG. Well for that, let's find out with the revolutionary iPhone, from generation to generation.
1. The first generation iPhone
,
engadget.com
quoted from wikipedia. on sale on June 29, 2007 in the U.S. at a price of U.S. $ 499 for the 4GB model and $ 599 for the 8GB model (but with the condition that the contract with AT & T for 2 years).
The iPhone is also welcome fans of the Mac because Apple perfecting feature
iPhone to meet the needs of consumers who are experienced in technology and retain its distinctive design of Apple's famous.
Actually if we look behind Apple's design, not much different technology than that offered by other companies, the only difference being Apple
removing the iPhone and they are selling this product, obviously Ben Wood of CCS Insight research firm.
But a hefty price of the iPhone makes bags sold out so this does not seem problematic for the magazine MacFormat editor Graham Barlow, who decided to buy two iPhones, regardless of price.
Like many others, Barlow was very impressed with the touch-screen technology (multi-touch) offered the iPhone, and Apple has patented.
The touch screen was born of resentment of Apple CEO, Steve Jobs, the current mobile phone usage. With a design that offered the iPhone, users simply
iPhone touch screen measuring 3.5 inches to connect a phone. If there is an incoming call, users simply touch the logo of a second. The third logo is touched to combine the two telephone lines into the conversation of three people.
With the breakthrough offered the iPhone touch screen, touch screen technology this would seem to have similar effects on the cellular phone market as well as the influence of the Nintendo Wii machine that can detect motion in the gaming market.
Before introducing iPhone, Apple had experimented with touch-screen technology. Apple's first try with a PDA (Personal Digital Assistant) type of Newton. Other companies like SonyEricsson and Nokia also has a tool with a touch screen, but unfortunately many are not successful.
What makes it special compared to the iPhone similar gadget is little innovation in
iPhone as a motion sensor that automatically detects when users rotate the tool from a standing position to sleep and change the display according to the position of the phone screen.
Some people think the iPhone finally managed to fix the problem so far of how various functions can be incorporated with either a single instrument. But observers of the mobile phone research company Jupiter, Tom Hussen, not too sure of that.
In an interview with the BBC, Hussen said that unites the functions without any compromise is very difficult to achieve.
"IPhone has clearly declared the new standard for mobile phone manufacturers and Apple's fix the major problems faced by experienced users, but this phone can only be sold if offered something great," he said.
Hussen also found some things that might cause problems such as the ability to survive a battery (five hours to call and about 16 hours to hear
music), the security of the iPhone operating system that allows programs and software from other manufacturers.
However apapapun comments from various parties, that is clear to fans of Apple products, the presence of the iPhone that uses the operating system Appke OS X on the iPhone has made them feel happy and helped to perform various activities in one tool. "No one predicted it, but this means that Mac users easily use it because it was used," explains Barlow is optimistic about the iPhone product. Although eager to buy the iPhone, Barlow realized that the tool is easily scratched. In addition to the price of U.S. $ 499 iPhone offers the ability to store a relatively low at only 4GB. For the 8GB model consumers have to spend U.S. $ 599.Minimnya capability of storing means many people are not going to just dump the iPod and switch to the iPhone. Graham Barlow assess the iPod will continue to enjoy healthy sales and compete with his young brother. (
source
)
Ukuran

: 115 x 61 x 11,6 mm

Berat

: 135 gram

Display

:

Touchscreen 3.5 inc, 16 million colors,320 x 480 pixel resolution

Ringtones

: Polyphonic, MP3, Vibrate

Memori internal

: 4 dan 8 GB

Konektifitas

: GPRS, EDGE, WiFi, Bluetooth, USB

OS

: Mac OS X v10.4.8

Messaging

: SMS, MMS, Email, Instant Messaging

Browser

: HTML (Safari)

Warna

: Hitam

Kamera

: 2 MP, 1600×1200 pixel, video

Fitur

: Google Maps, Widgets applications, iPod
audio/video player, PIM termasuk calendar, to-do list, Photo browser/editor,
Voice memo, Integrated handsfree

Talktime

: 5 hours

2. iPhone 3G
Taken from
mufid.net
iPhone 3G has a slightly different design on the sides and back, and coupled with the capability to use regular headphones Headphone Jack there.
Aside from the already existing features, the iPhone 3G will be coupled with GPS capabilities which means you can find out where you are now able to perform tracking and positioning. Also, you can find the quickest route to the location you want to go.
Actually, for the GPS feature that allows iPhone menggunakkan Google Maps API to be implemented into the iPhone. The problem is, so far Google Maps has a poor support for the map of Indonesia. Perhaps that is the reason why Indonesia is not included in the list of iPhone launch date of July 11, 2008 in 70 countries. In Asia, the iPhone will only go to India, Japan, Singapore and other countries including the Middle East.
In addition to using 3G which enables extremely fast data access, even approaching the speed of Wi-Fi, additional features of the iPhone also penetrated into the software. Update this software allows developers to develop their own applications that truly integrates with the iPhone (instead of Web Apps). At the Apple WWDC event preview it in 2008 and at the "iPhone Software Roadmap" a few months ago, the iPhone is very possible to be able to run games with graphics that may be juxtaposed with the PSP and other portable consoles. This is because the iPhone uses Mac OS X as the base operating system is also used on computers besutannya, Mac.
3. iPhone 3GS
iPhone 3GS specification
Network: 2G Network GSM 850 / 900 / 1800 / 1900 or 3G Network HSDPA 850 / 1900 / 2100
Size: 115.5 x 62.1 x 12.3 mm, Weight: 135 g
Processor: ARM Cortex A8 CPU 600 MHz, PowerVR SGX graphics
Battery: Stand-by up to 300 hours. Biacara time to 12 hours (2G) atay 5 hours (3G). Play music up to 30 hours
Screen: TFT capacitive touchscreen, 16 million colors. 320 x 480 pixels, 3.5 inc. Scratch-resistant surface, proximity sensor for automatic off function. Accelerometer sensor for auto rotation, the method of input (input) multi-touch.
Memory: Phonebook without borders, photo call 100. internal memory of 16 GB / 32 GB storage, 256 MB of RAM. Without a memory card slot
Camera: Primary 3.15 MP, 2048 × 1536 pixels, autofocus Features Touch focus, Geo-Tagging
Video: Yes, VGA @ 30fps, video geo-tagging
Local Application:
MyBabyTree: application to plant trees on National Forest Rinjani, Lombok.
Jakarta Good Food Guide: a guide recommendations best culinary tourism in Jakarta
KidsCards (application of basic education for toddlers through moving pictures and sound)
I-and E-dictionary dictionary dictionary over the Indonesian to English and vice versa
Additional features of the iPhone 3GS:
Video Camera: allows customers to record and edit video, and then to share the video via email, MMS, MobileMe, or Youtube.
Voice Control: customers can use to make voice phone calls, and even play a favorite song. Meanwhile,
Digital Compass
3G iPhone's other features:
SMS Messaging (view thread), MMS, Email, Browser HTML (Safari), Download Game, incl. motion-based Colors Black, White, GPS Yes, with A-GPS support. Digital compass, Google Maps, Audio / video player, TV-out, Voice command / dial. (
source
)
4. iPhone 4
IPhone Specifications 4
Color: Black or White
Height: 4.5 inches
Width: 2.31 ​​inches
Thin: 0.37 inches
Weight: 137 grams
the capacities of:Display:
Retina Display
3.5-inch (diagonal) widescreen Multi-Touch display
Resolution 960 x 640 pixels, with 326 ppi
Contrast Ratio 800:1
Fingerprint-resistant oleophobic coating on the front and rear
Supports multiple languages ​​and characters simultaneously
Cameras, Photo, Video:
Footage HD (720p) up to 30 fps
5MP Camera
VGA front camera with 30 fps
LED flash
Geotagging feature on the photo and video
audio:
Frequency response: 20Hz to 20,000 Hz
Audio Format: AAC (8 to 320 Kbps), Protected AAC (from iTunes Store), HE-AAC, MP3 (8 to 320 Kbps), MP3 VBR, Audible (formats 2, 3, 4, Audible Enhanced Audio, AAX, and AAX +), Apple Lossless, AIFF, and WAV
TV and Video:
Video Format: H.264 video up to 720p, 30 frames per second, the Main Profile level 3.1 with AAC-LC audio up to 160 Kbps, 48kHz, stereo audio in. M4v,. Mp4, and. Mov file formats; MPEG-4 video, up to 2.5 Mbps, 640 by 480 pixels, 30 frames per second, Simple Profile with AAC-LC audio up to 160 Kbps per channel, 48kHz, stereo audio in. m4v,. mp4, and. mov file formats; Motion JPEG (M-JPEG) up to 35 Mbps, 1280 by 720 pixels, 30 frames per second, audio in ulaw, PCM stereo audio in. avi file format
Supports resolution of 1024x768 pixels, with a dock connector to VGA for 576p and 480p.
Cellular and Wireless:
UMTS / HSDPA / HSUPA (850, 900, 1900, 2100 MHz)
GSM / EDGE (850, 900, 1800, 1900 MHz)
802.11b/g/n Wi-Fi (802.11n 2.4GHz)
Bluetooth 2.1 + EDR wireless technology
Location Features:
A-GPS
Digital Compass
Wi-Fi
Batteries and Power:
Lithium-ion battery that can charge
Power USB via PC / Mac
Talk time up to 7 hours (3G), up to 14 hours (2G)
Standby time: 300 hours
Use of the Internet up to 6 hours (3G), up to 10 hours (WiFi)
Footage: up to 10 hours
Record Audio: up to 40 hours
9 Features in iPhone 4
1. Design
IPhone 4 distinctly different design than previous generations. In addition to thinner (9.3mm now), the iPhone 4 using a glass panel in the front and rear.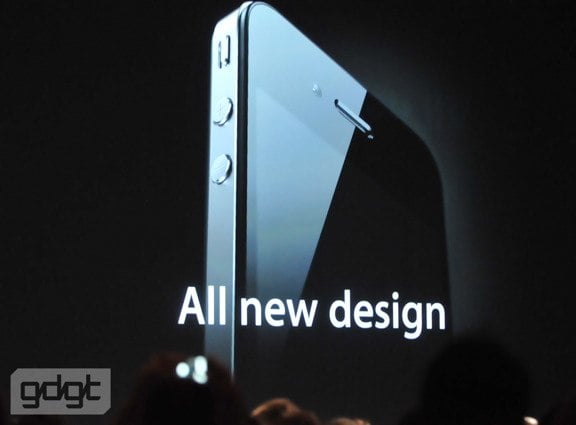 In terms of interior design, Apple designed the antenna around the entire body of the mobile phone. That is why in certain parts of the iPhone 4 looks like a gap that seems out of character for Apple to bring the product seamlessly.
2. Retina Display
IPhone Screen 4 get increased quite dramatically. From the resolution, the screen is now displaying 960x640 pixels, while the density reaches 326 pixels per inch.
IPS screen technology coupled with a contrast ratio of 800:1, the image produced on a 3.5-inch screen that is claimed to be very clear. Apple calls this technology Retina Display.
3. A4 Processors

Apple ensures that the processor used is A4, the same as used on the iPad. Jobs also said it is able to enlarge the size of the battery on the iPhone 4 because it uses a micro-SIM.
"Because we managed to make a larger battery, and because the A4 is really good, we have improved battery life. 7 hours of talk on the 3G, 6 hours of 3G browsing, 10 hours of WiFi browsing, 10 hours of video, 40 hours of music, 300 hours standby, "said Jobs.
4. Gyroscope

If during the iPhone 3G and previous generations 'just' using accelerometers, gyroscopes Apple adds sensors on the iPhone 4. This means that the iPhone 4 will be able to detect 3-axis motion.
Coupled with the accelerometer, the iPhone 4 according to Jobs will be able to detect the 6 axes of movement. It is expected to give birth many new types of games on the iPhone 4.
5. Camera Systems

The camera on the iPhone 4 there are two. One in front and one behind, with an additional camera on the back has an LED flash.
5-megapixel camera with a resolution that also has a 5x digital zoom capability and backside illumination to fix the sensor. For video, the camera can capture up to 720p at 30 fps.
As if not enough, Apple also announced the existence of iMovie application for the iPhone. Video editing applications will be available for USD 4.99 a fairly complete with features, including video editing on the quality of 720p.
6. Operating Systems
Operating system on the iPhone, iPod Touch and IPAD will now be called IOS. While the latest versions of IOS 4 is soon to be distributed by Apple.
Not many new things to IOS 4 compared to the previous Apple announcements. One thing is quite interesting, Bing search engine has become an option for Safari in addition to Google and Yahoo.
7. iBooks
Features mainstay number seven is the availability of iBooks application for the iPhone and iPod Touch as well. Later, the books have been purchased in a single device, such as the iPad, can also be synced to other devices without additional cost.
8. Ads on the iPhone
Eighth feature is also not too surprising, this is an interactive advertising system called iAds. Apple claims some advertisers who are ready to present on that platform, with a total commitment to $ 60 million.
9. Video Chat
Habit Jobs in his keynote was delivered 'one more thing'. This time, a feature that came later was application called FaceTime.
These applications take advantage of both the iPhone camera 4 to conduct conversations via video. Video chat can be done between iPhone 4 which are both connected to the Internet via WiFi (of course, not be in a WiFi area). (
source
)
5. iPhone 5
Taken from detikInet.com Not a single word that was brought executives the latest generation of Apple iPhone-related action on the stage when the Worldwide Developers Conference (WWDC) 2011 held in San Francisco, USA. Inevitably, the iPhone 5 was still shrouded in mystery.
The annual event is, as usual, Apple CEO Steve Jobs is still the focus of the audience in attendance. Although looked thin because the program is still in the treatment of cancer, Jobs remained enthusiastic and charming the audience by showing off Apple's latest service, iCloud.
It is a service that can be optimized Apple gadget users to store and distribute content. For example, iCloud will store photos taken with the iPhone and then automatically sends the picture content to be stored on a Mac, AppleTV, or even the user's iPad.
Besides iCloud, who also introduced the iMessage, service messages between IOS device. iMessage more or less similar with his BlackBerry Messenger Research In Motion.
Then there is the moment an update on OS X Lion. Mac operating system for this would be available in the App Store for USD 30 with a file size of 4GB.
Apple also introduced IOS 5, the new operating system for a variety of their IOS-based devices. This operating system will be present in the fall alias around August-October 2011.
And what about the news of the latest generation iPhone? Devices who already touted as the iPhone 5 it was not mentioned at all by Apple. As a result, Apple enthusiast curiosity of this gadget is still unanswered.
Apple is apparently still reluctant to reveal the flagship communications devices. And if you look back, the announcement of the iPhone's presence 4 for the first time also performed on the WWDC event in June 2010.
No one would feel if some parties some time ago had hoped that if Apple will do the same to exhibit the presence of 5 iPhone at WWDC 2011. But alas, the hope lives of hope. Apple is still shut down the veil of mystery iPhone 5.
Rumors last mentioned, the iPhone 5 is strongly suspected to be released in 2011. Even the news that blow has stated that the iPhone 5 will have a curved screen alias concave.
The news was conveyed by the media that Taiwan-based DigiTimes citing relevant sources. If this is true, presumably there will be a significant design change in the iPhone 5 than previous generations.
Indeed, many issues surrounding the iPhone 5, which sometimes do not work together. As related to the launch date of the gadget. Some are saying mid-year, partly estimated in September ahead of the holiday season.
In addition, iPhone will be predicted to adopt a dual core processor and 8-megapixel camera. It saw a number of iPhone competitors are improving their ability with the latest technology.